It's that time again! WGLL BASEBALL SIGNUPS ARE UNDERWAY! Sign up in person at the dates listed or online today at westerngreenbrierll.org

Greenbrier County Schools will be closed today due to localized flooding and road closures.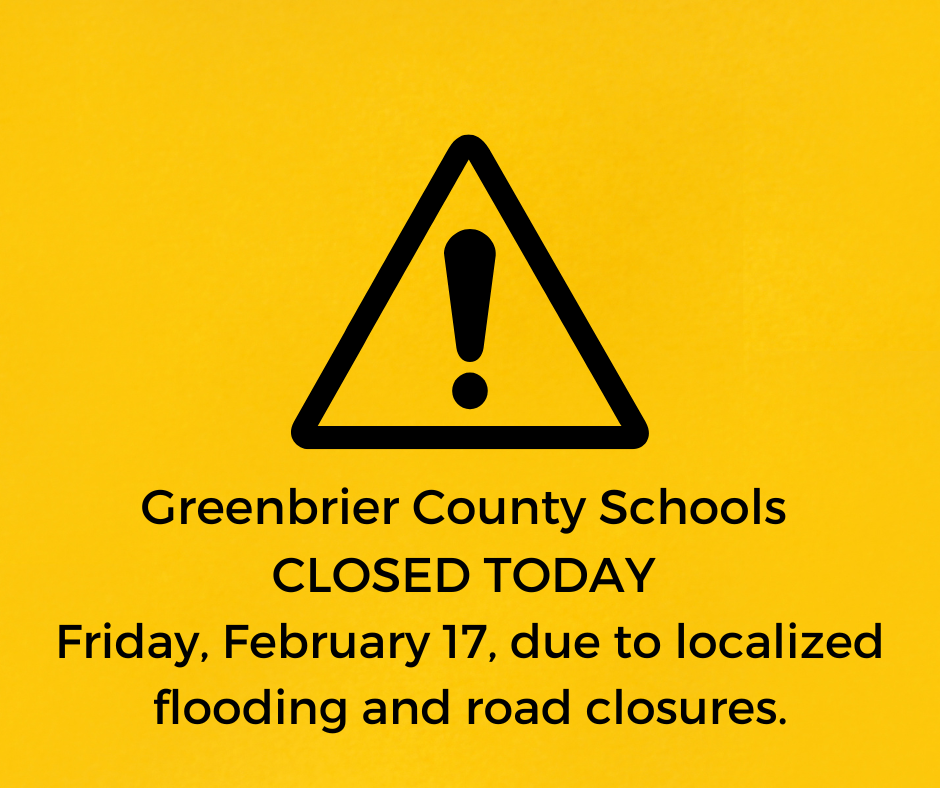 Happy Valentine's Day! We love our students, staff, and GCS families!
Reminder: Social Studies Fair is tomorrow- Projects need to be set up between 7-8:30 AM in the gym & will be open for viewing starting at 1 PM.
Little Caesar Pizza Kit Orders & Money are due tomorrow, February 9th. Delivery is still TBA.
Reminder! Tomorrow we celebrate the 100th Day of School. If you have a 100 Day shirt please wear it or you can make your own! Be Creative!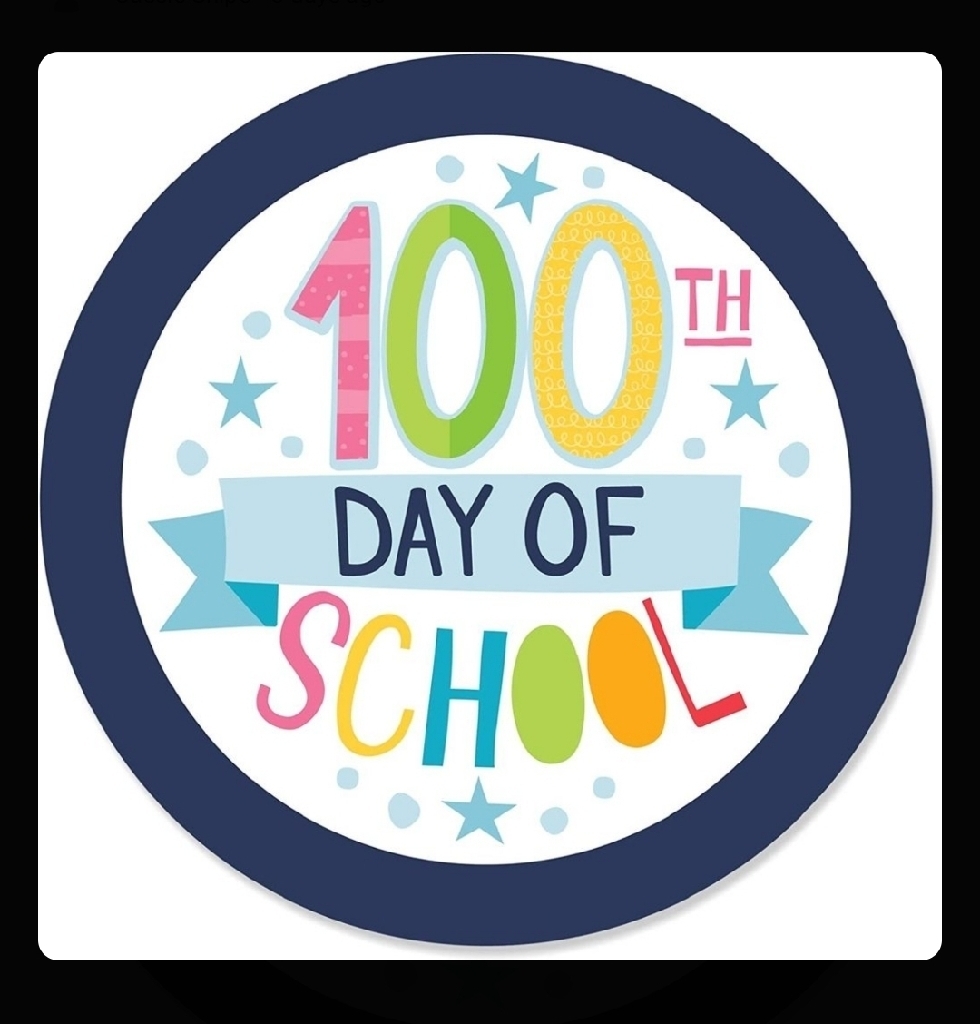 Little Caesars Fundraiser papers are coming home today. Orders and Money are due February 9th! (We are doing the buyout option again!) Week of the delivery is TBA. Student Goal- 5 Pizza Kits!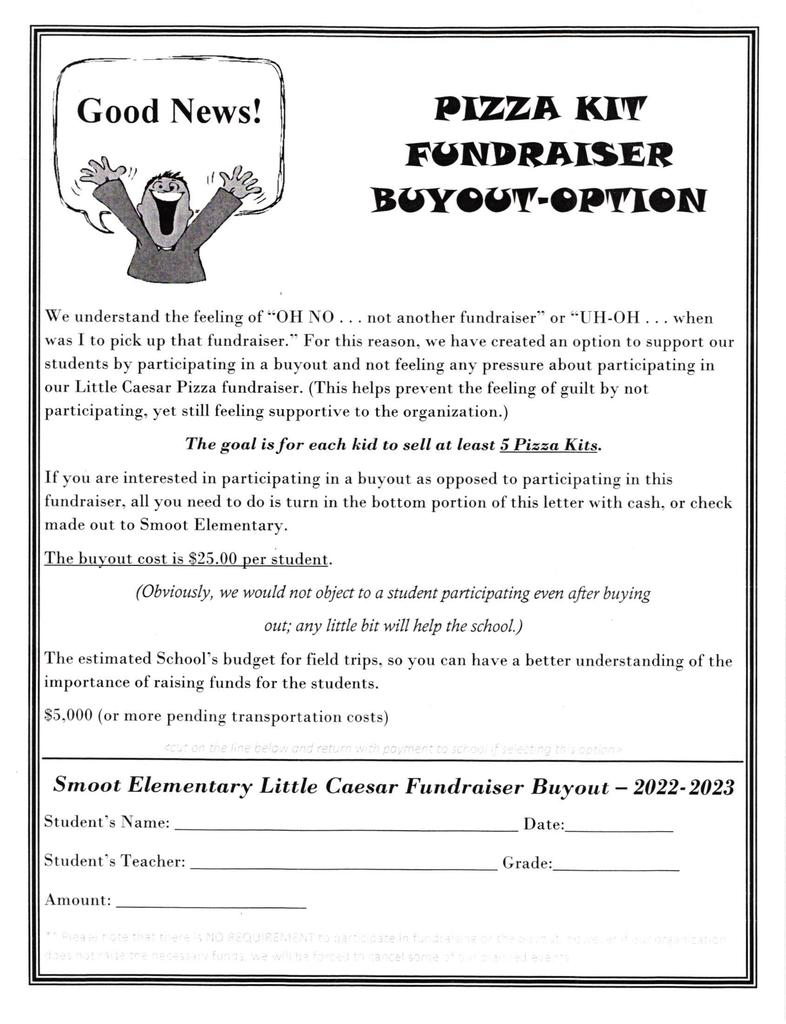 THE 100th DAY OF SCHOOL IS TUESDAY, FEB. 7th. IF YOU HAVE A 100 DAY SHIRT, PLEASE WEAR IT OR YOU CAN MAKE YOUR OWN SHIRT. BE CREATIVE!

CALENDAR REMNDER: The two-hour early release for Faculty Senates on April 28 has been moved to April 21, 2023. The Annual Showcase for the Arts is on April 28. Please be sure to note this update on your calendar.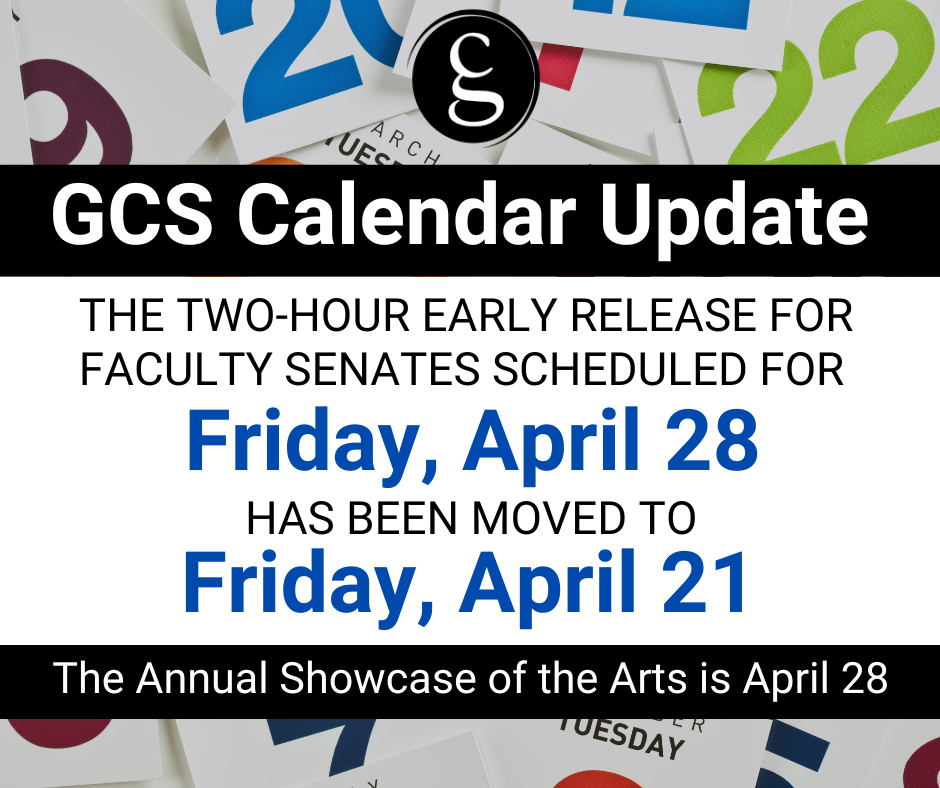 Be sure to check DOJO SCHOOL STORY for the video on how to help your 3rd, 4th or 5th Grader with their Social Studies Fair Project!!!
Congratulations to 5th Grade student, Tayton Martin on his 2nd place win in Math Field Day! Also, check out our Smoot Smokie Team who competed today!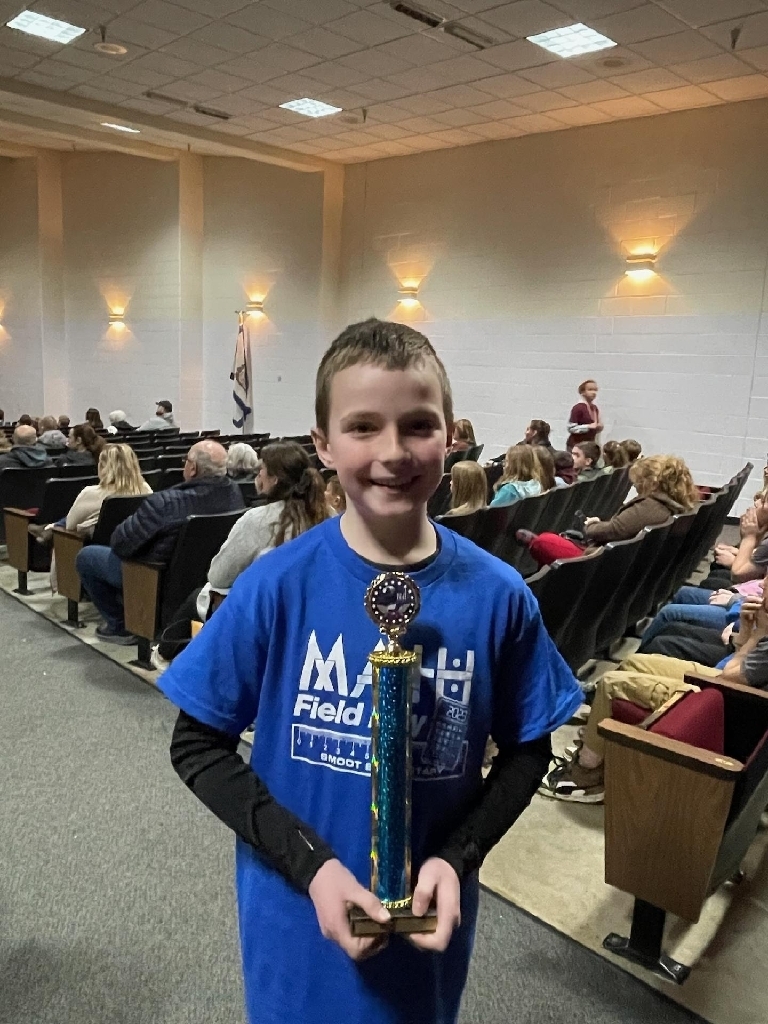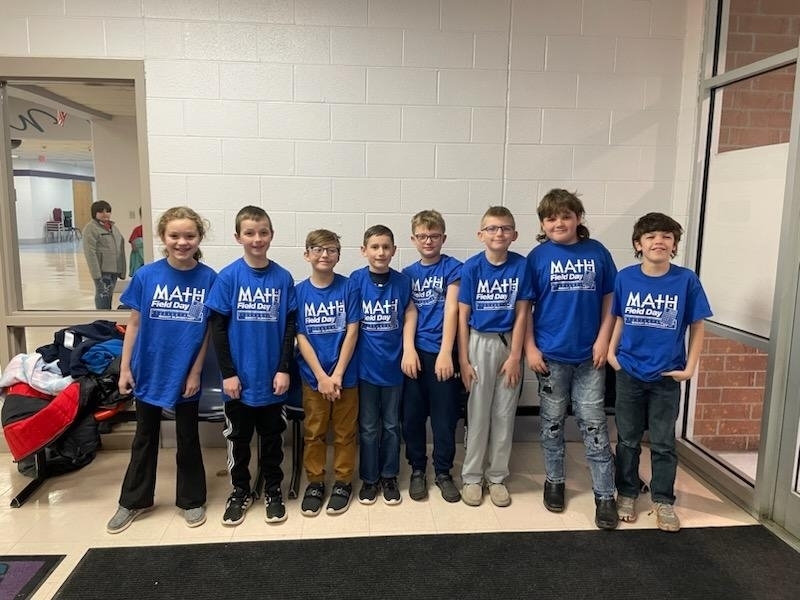 Lunch Menu Change for Friday, January  20th Stuff Crust Pizza Romain Tossed Salad w/Dressing Steamed Corn Fresh Fruit Milk

Free internet connections through June 30, 2023, are still available for eligible Greenbrier County Schools households. Any GCS families who have NOT received a letter with information about a free internet connection are encouraged to call the technology office at 304-647-6484 to check to see if they are eligible.

Planning is underway for the 2023-2024 school calendar! We invite parents, students, staff, and community members to complete a brief online school calendar survey at
https://www.surveymonkey.com/r/RXHKD9V
. The survey closes on Friday, January 20. Calendar options and a planning guide are available at
https://www.greenbriercountyschools.org/page/school-calendar-planning
. GCS will host a public forum regarding the calendar on February 14 at 5:30 p.m. and March 14 at 5:30 p.m. at the Kyle & Ann Fort Arts & Sciences Building on the campus of New River CTC. The 2023-2024 school calendar will be presented for approval at the regular meeting of the board of education on March 14.
Our Father/Daughter Dance is almost a month away! RSVP now to Ms. Cassie as she is planning food and fun. We are so excited to bring this event back this year. Dressing up encouraged, but not required and if your Dad is not available, we welcome your other father figure- grandpas, uncles, stepdads... Looking so forward to seeing each of you on February 16th at 6pm!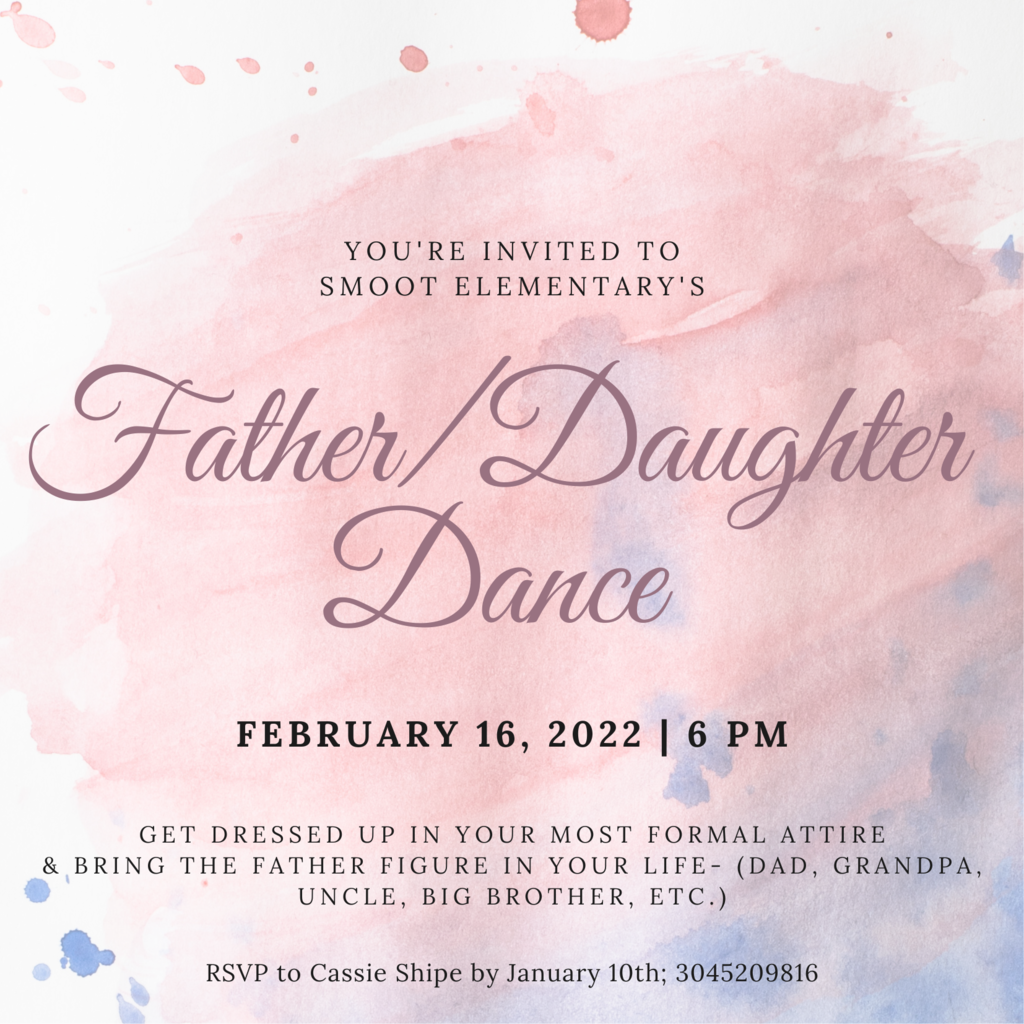 Jump for the Heart Papers will be going home tomorrow!!! This is an annual fundraiser that our school participates in for the American Heart Association. All papers and money raised needs to be turned in by February 14th!!!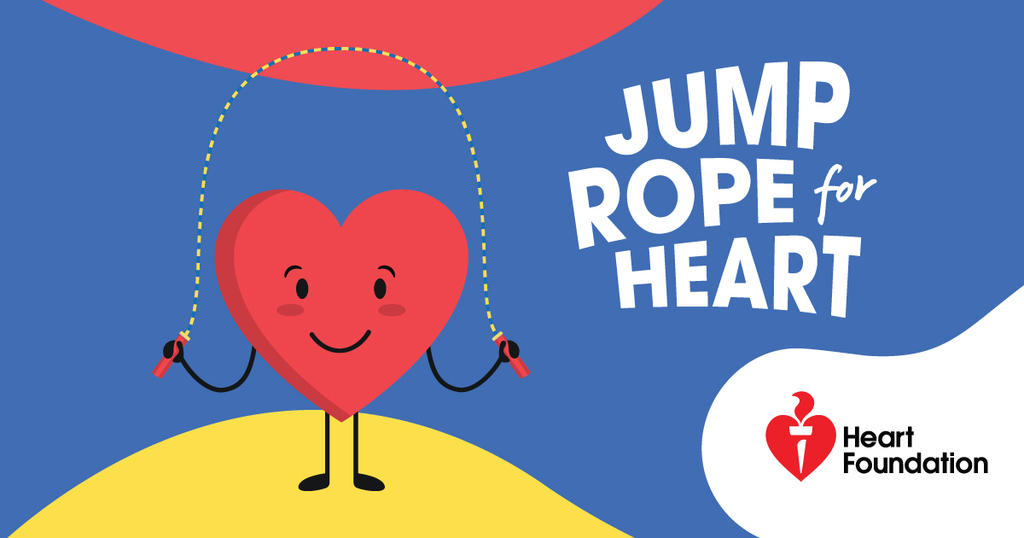 Happy New Year from Greenbrier County Schools! Schools are closed in observance of the holiday. We look forward to welcoming students back to school on Tuesday, January 3,.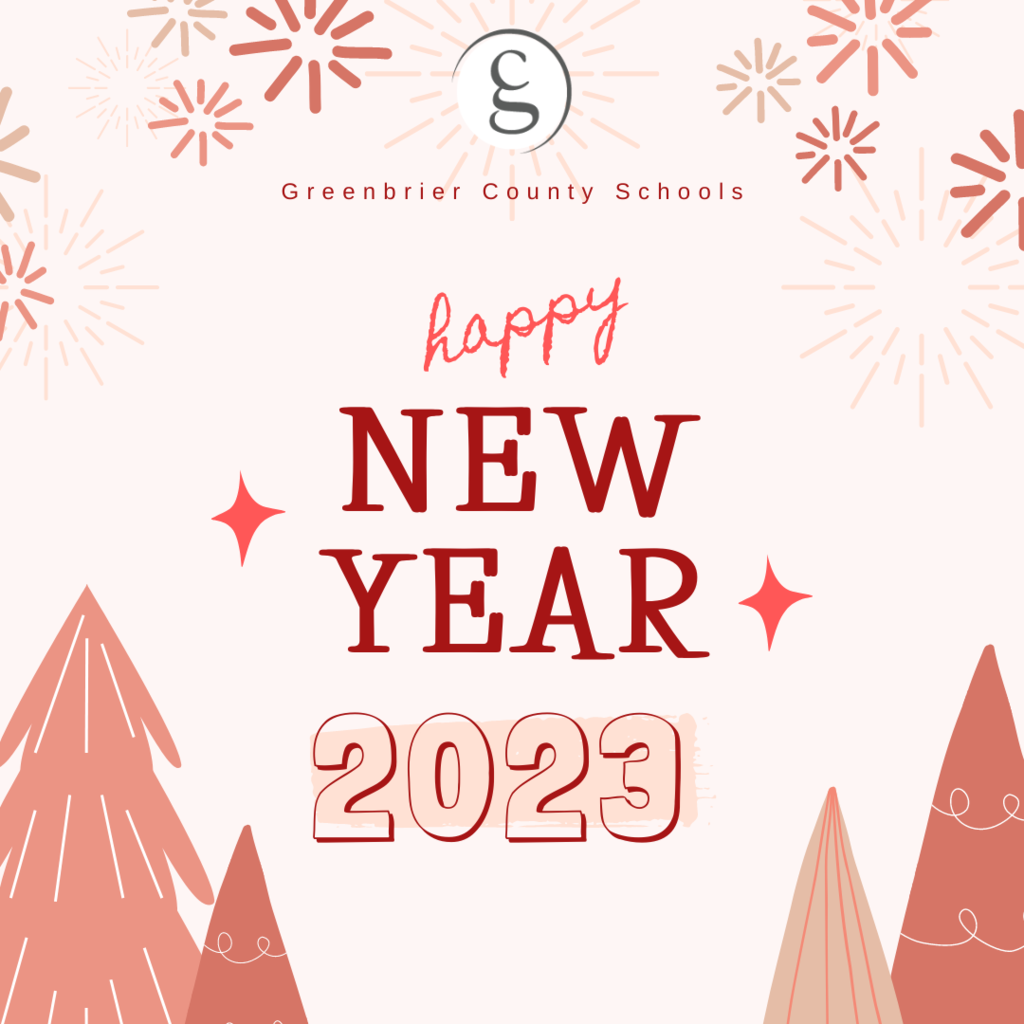 Wishing our students, staff, and community a very merry Christmas! Please remember Tuesday, December 20, is the last school day before the holiday break. Wednesday, December 21, is a Professional Learning & Faculty Senate Day for staff. The winter break begins Thursday, December 22, and runs through Monday, January 2. School reconvenes on Tuesday, January 3. Enjoy a restful holiday break!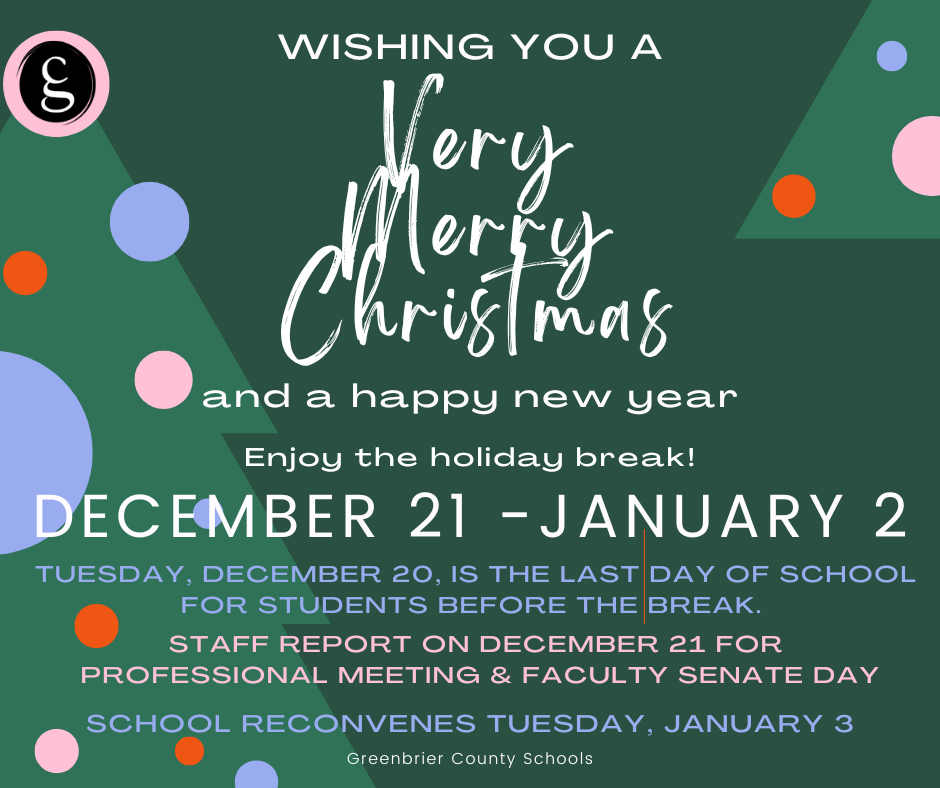 Important! To accommodate families that have students in choir at WGMS and students at Smoot we will hold the PK-2 concert at 515 pm on the 13th. This will allow time to make the choir performance at WGMS at 7.
School Picture Make Up day will be tomorrow, Wednesday Nov. 30th.