Important- Note the time change. SES Christmas Concerts this year are as follows; PreK - 2nd, Dec. 13th @ 6pm. 3rd-5th, Dec. 15th @ 5:15pm. We thank you for your cooperation on this change and hope this will make seating and parking much more manageable for our large crowds.

Happy Thanksgiving Break - November 21 -25!

Greenbrier County Schools will operate on a 3-HOUR DELAY TODAY, Thursday, November 17, due to inclement weather.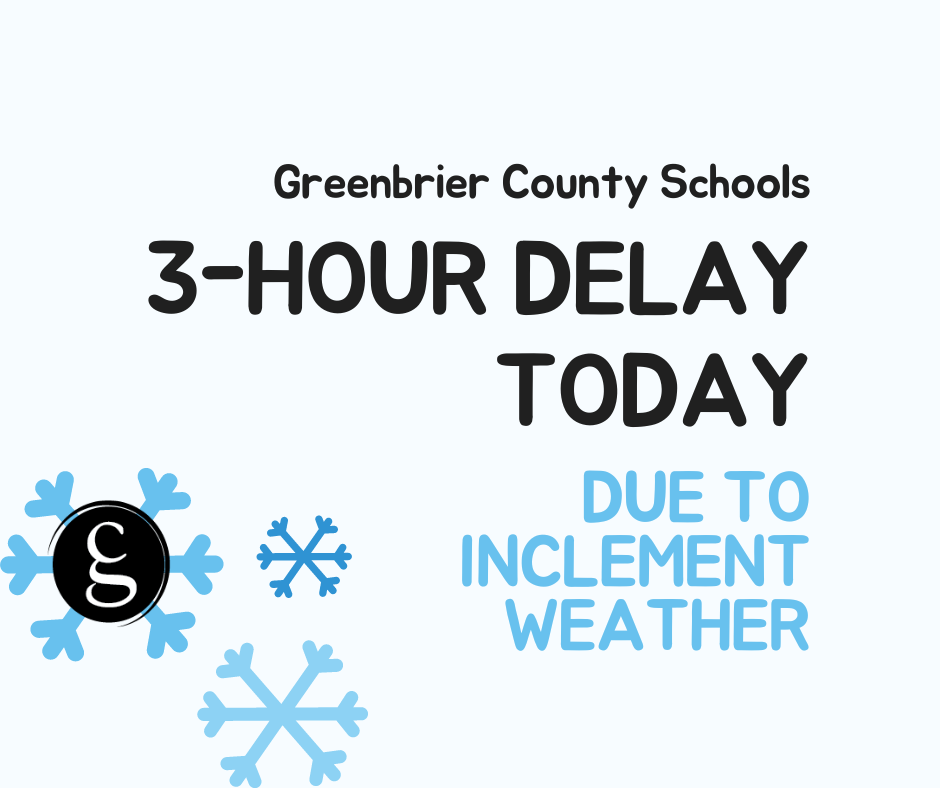 TOMORROW WE WILL HAVE PAJAMA DAY TO END OUR WEEK BEFORE THANKSGIVING BREAK!

CALENDAR REMINDER: Tuesday, December 20, is the last school day before the holiday break. Wednesday, December 21, is a Professional Learning & Faculty Senate Day for staff. The winter break begins Thursday, December 22, and runs through Monday, January 2. School reconvenes on Tuesday, January 3. Enjoy a restful holiday break!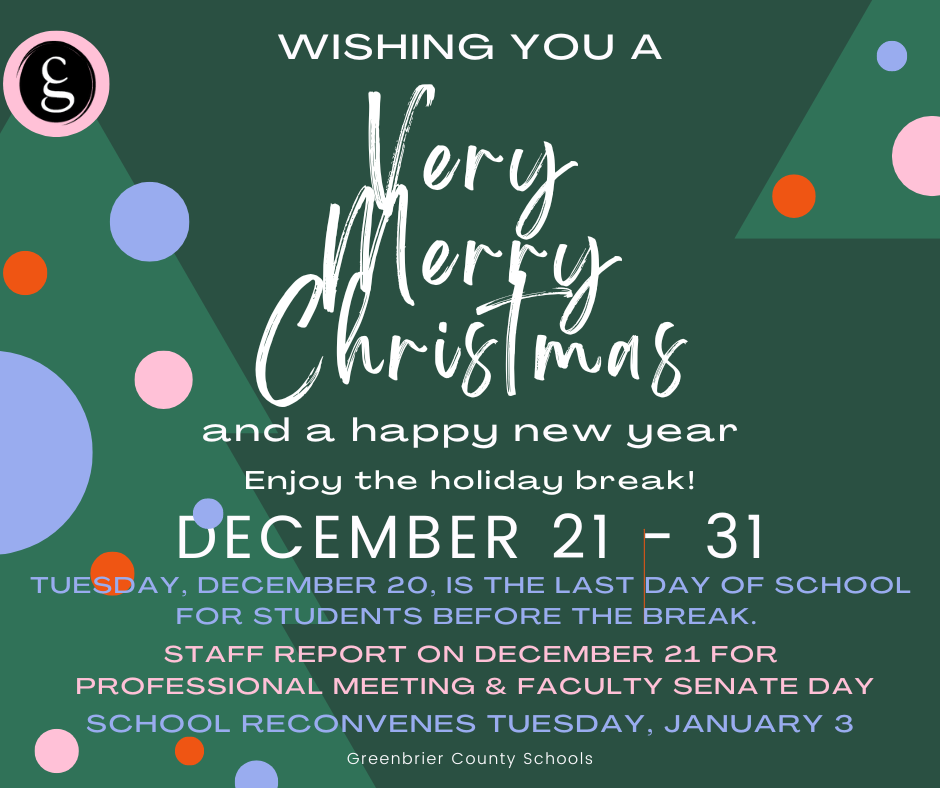 Butterbraids need to be picked up on Monday, November 14th from 3:00 p.m.-4:30 p.m. in the school library. Thank you to everyone that supported this fundraiser!

GCS is proud to partner with the WVSU Extension Service, Children's Home Society, and Greenbrier County Family Support Center to present the Healthy Grandfamilies Resource Fair at The Marvel Center in Rupert on Monday, November 14, from 5:30 - 7:30 p.m.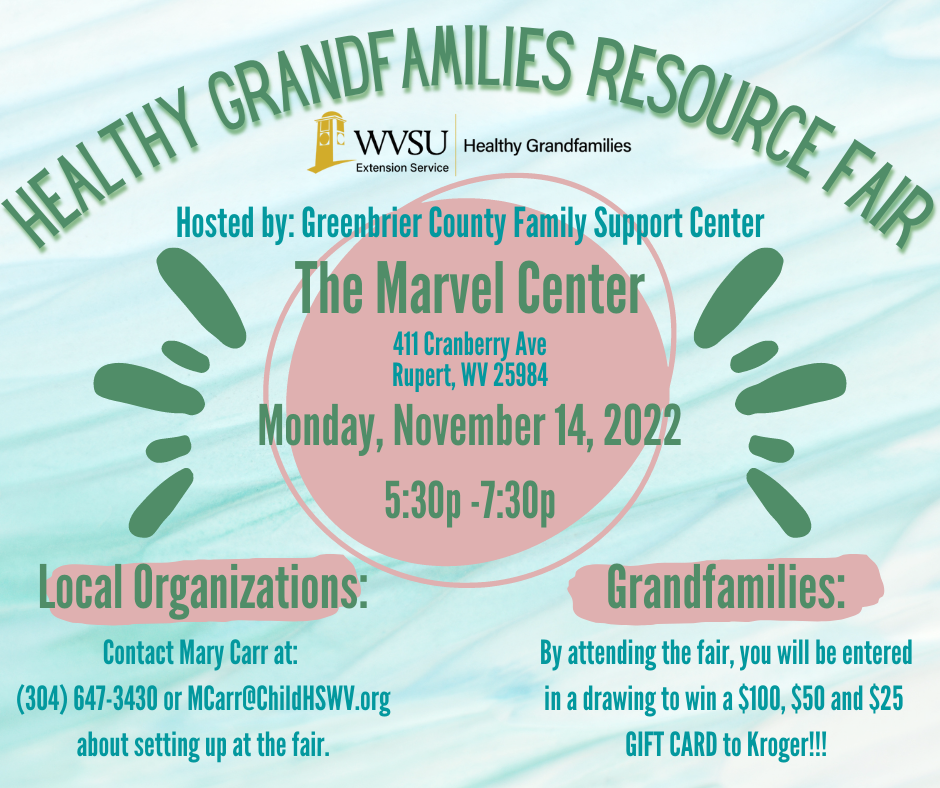 Veterans may parade through our semi circle this Thursday, November 10th from 845 a.m. to 9:00 a.m. Homemade cinnamon rolls and fresh brewed coffee will be served curbside. We look forward to seeing and serving our Veterans!

Greenbrier County Schools reminds families that schools will be closed on Tuesday, November 8, in observance of Election Day and Friday, November 11, in observance of Veterans Day. Please remember continuation of the school levy is on the ballot.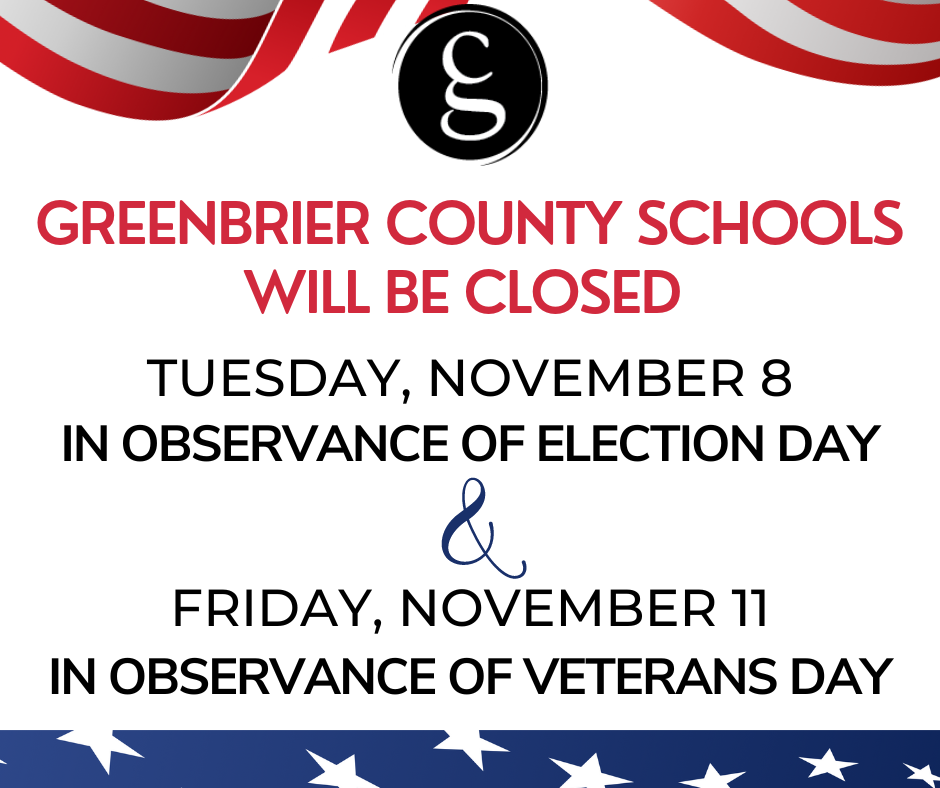 Please remember that continuation of the school levy is on the election ballot. The levy supports school security (including police officers in all schools), art & music programs; instructional materials & supplies; capital improvements; facility maintenance & repairs; personnel outside the school aid formula; and maintains employee benefits. Early voting ends Friday, November 5. Schools are closed on Election Day, Tuesday, November 8.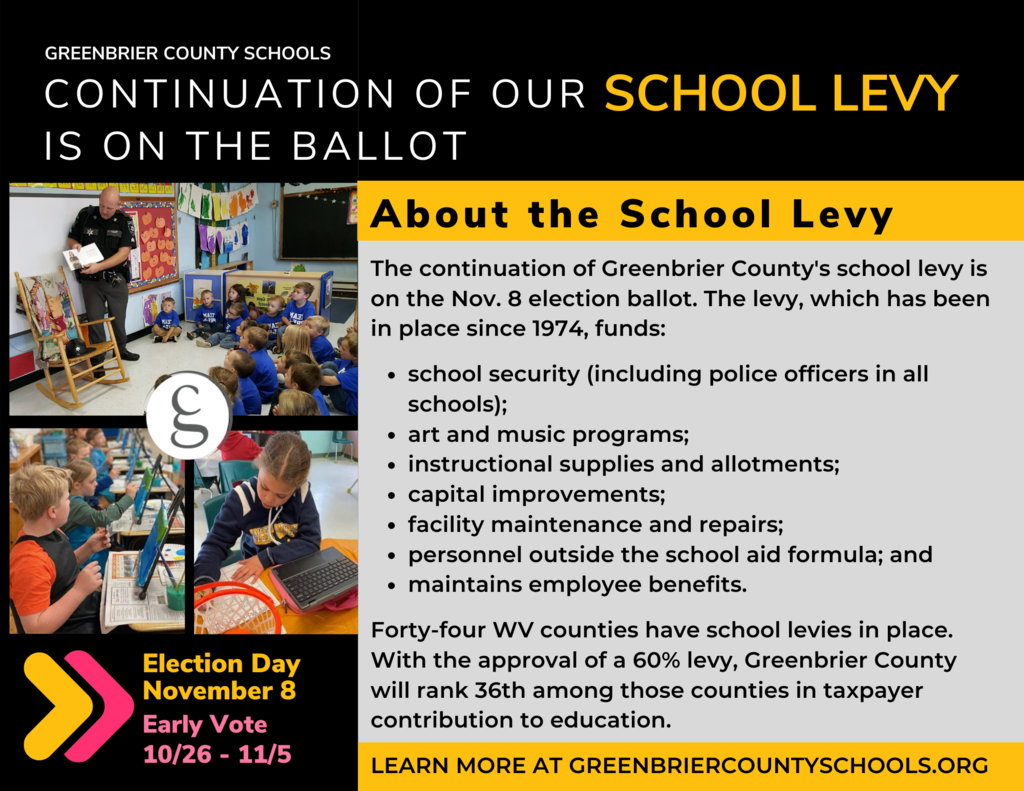 Please remember to sign up for your Fall Parent/Teacher Conference. The link to do so is located on our school website under the FOR PARENTS TAB as well as on CLASS DOJO. Thanks- Mrs. Judy
Reminder! Butter Braid Orders and money are due this Friday, November 4th as well as School Picture Orders.

SMART 529 SWEEPSTAKES: SMART529 is celebrating 20 years by giving away three $20,000 savings scholarships to West Virginia children ages 14 and under. One scholarship has been given away already, but there is still time to register for the remaining two. Visit
https://www.wvtreasury.com/20years
for more details regarding the sweepstakes. Families must register to be eligible for the sweepstakes.

The continuation of Greenbrier County's school levy is on the Nov. 8 election ballot, and early voting at the Courthouse and Rupert Community Center is open now through November 5. Please remember schools will be closed in observance of Election Day on Tuesday, November 8, and Veterans Day on Friday, November 11. The levy, which has been in place since 1974, funds school security (including police officers in all schools); art and music programs; instructional supplies and allotments; capital improvements, facility maintenance and repairs; and personnel outside the school aid formula and maintain employee benefits. Forty-four WV counties have school levies in place. With the approval of a 60% levy, Greenbrier County will rank 36th among those counties in taxpayer contribution to education. Please visit greenbriercountyschools.org and select School Levy from the Site Menu options to learn more.
​Our first school wide fundraiser is coming home today, BUTTER BRAIDS! 1. Online ordering is NOT AVAILABLE! 2. Orders are due by November 4th! 3. Delivery is the week of November 14th-18th; the exact date is TBD! 4. Goal to sale: 5 per student!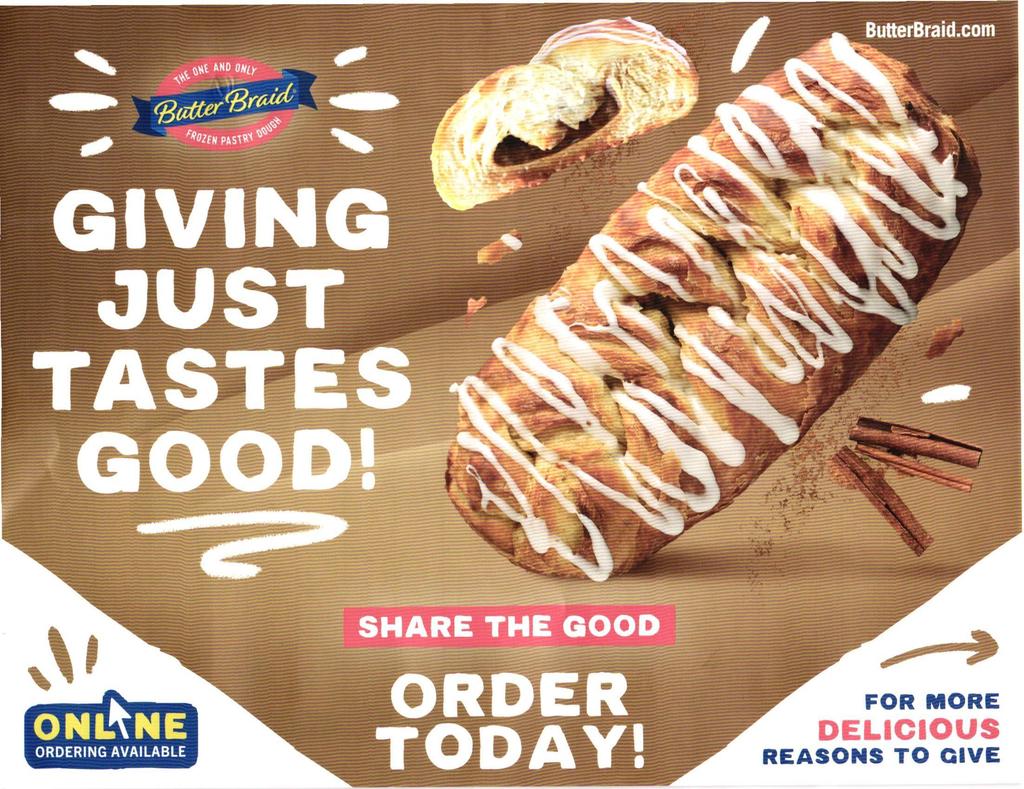 School bus transportation plays a critical role in the education of our nation's students and is the direct link between a neighborhood and the classroom. Each day, GCS transports approximately 2,925 students an estimated 4,570 miles -- a distance comparable to driving across the U.S. and more than halfway back. National School Bus Safety Week reminds us all to keep school bus safety at the forefront.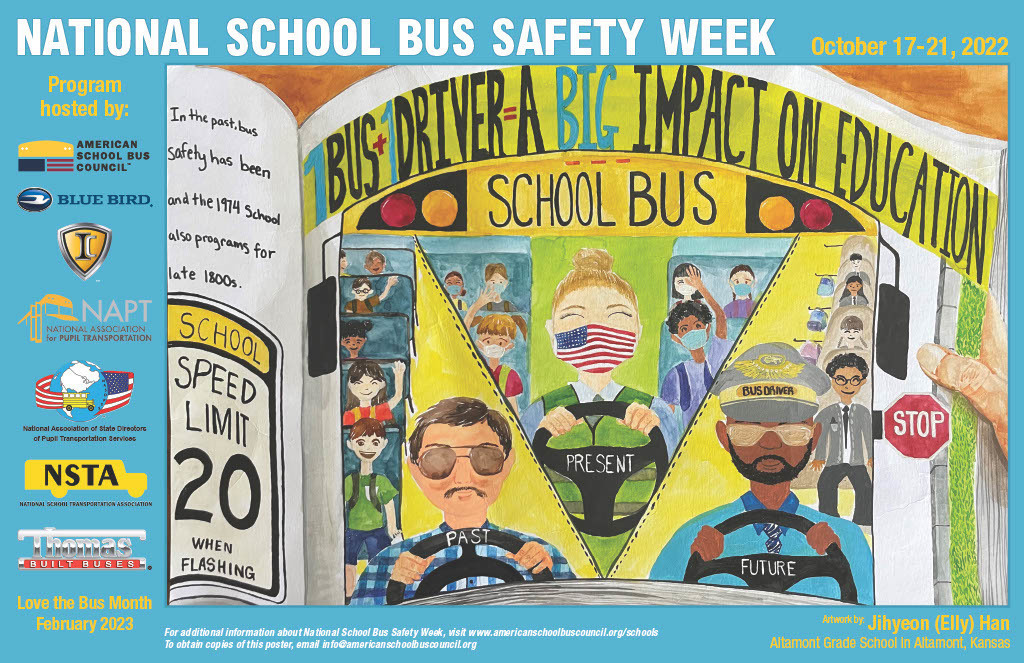 Since 1993, officials around the world proclaim the third week in October as #CharacterCountsWeek. GCS students learn the importance of developing and demonstrating good character every day through Trustworthiness, Respect, Responsibility, Fairness, Caring and Citizenship.
Reminder: Tomorrow is Picture Day!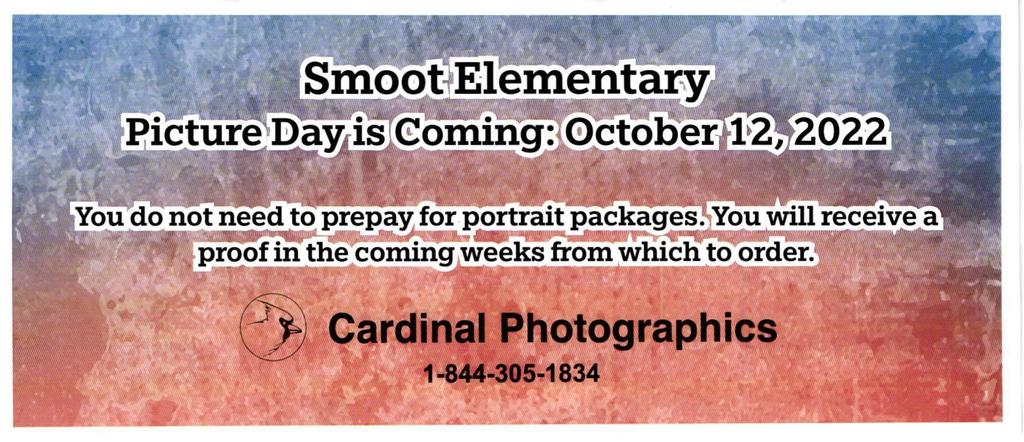 Today at 5:30, Cafeteria!